Central Wisconsin Holistic Home Schoolers Co-op Exhibit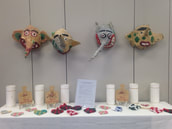 ---
Cranberry Artwork and Urban Landscapes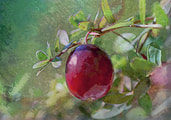 ---
Local Vision 2016 ~ Hidden and Revealed
---
Polymer & Pixels
Open Class Photography Exhibit
---
Holiday Extravaganza 2015
Annual juried holiday art, high craft and cottage foods and products show & sale.
Central Wisconsin artists:
Pam Aughey, Pam DeBoer, Barb Lassa, Mary Ivanoski, Kathleen Johnson, Kathy Johnson, Roxine Karbowski, Tom Lindsley, Laura Potter and Julie Suhr.
Wisconsin grown and produced CSA foods, skin care products, supplements, soaps, and family farmed and produced items by:
Amy and Ryan Scheide of Great Expectations
Katrina Hitner and Steve Hitner of Family Natural Foods
Irene Klapoetke of Irene! Handmade Soaps
Pat Rusch of Ruesch's Century Maples
Curbanies Premium Cranberry Morsels
---
Contradictions 2015
2015 Best of Show and Honorable Mention Winners
Congratulations to the 2015 award winners, selected from 60 anonymous public votes. Thank you to all who entered and voted.
---
Terra Guitarra one-man exhibit of Bruce Hecksel
September 21 to October 9, 2015
In conjunction with ART on TAP 2015
---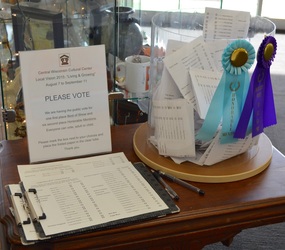 Local Vision 2015
Best of Show
"Autumn" by Brooke Newman
Honorable Mentions
"Hope" by Bonnie Dhein
"Orchids" by Bonnie Dhein
"Flower/Plants 3" by Kathleen Johnson
"The Hunt Is On" by Brooke Newman
"In The Deep" by Brooke Newman
"Owl In Flight" by Brooke Newman
55 anonymous public vote sheets were totaled to determine this year's winners.
Thank you to everyone who viewed and voted at Local Vision 2015.
---
---
Local Vision 2015 opening night
Soaring New Heights
June 12 - July 31, 2015
---
Budding Young Artists
Central WI Holistic Homeschoolers Co-Op Student exhibit, June 5 - July 31, 2015
---

Spring Renewal
April 17 to May 28, 2015 featuring paintings by Marie App and baskets by Barbara Johnson
---
---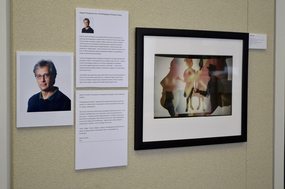 Puppets Through the Lens: The Photography of Richard Termine
February 14 to March 25, 2015 featuring photographs by Richard Termine, puppeteer and performing arts photographer for Sesame Street, The New York Times, Lincoln Center, Cirque du Soleil, Brooklyn Academy of Music, and Jim Henson Foundation
---
---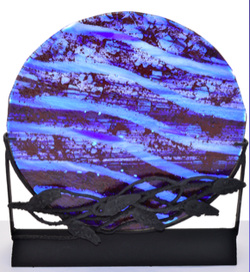 Light Matters
January 9 to February 28, 2015 featuring glass and metal sculptures by Tracey Rice, and reed and mixed media baskets by Dianne Brown-Hahn
---
---
Central Wisconsin Cultural Center
320 W Grand Ave, Suite 104, Wisconsin Rapids, WI 54495
715-421-4598 |
cwcc@culturalcenterarts.com
Tuesday 10 a.m. - 5 p.m. | Wednesday 10 a.m. - 6 p.m.
Thursday 10 a.m. - 5 p.m. | Saturday 10 a.m. - Noon​
​
Like us on Facebook