Call for Artists -

Submission Deadline: Friday March 2, 2018

Artists are encouraged to submit photos/digital images of their artwork reflecting the cranberry industry in the Central Wisconsin area. Artwork for Cranberry Festival 2018 will be chosen from submissions. The deadline for submissions is Friday, March 2.

All submitted photos/digital images should be of work in total. All pieces must be ready to hang or display (no submissions accepted without showing the painting or photo framed and/or ready for hanging or display).

From the submissions four pieces will be chosen as finalist, and artists will be asked to bring their piece to the Cultural Center before March 9, 2018. A winner will be determined and used as the artwork for the Cranberry Blossom Festival. All finalist pieces will be displayed during an exhibit during Cranberry Blossom Festival, June 14 – 17, 2018.

Use the attached ubmission form or call the Cultural Center at 715-421-4598. The Central Wisconsin Cultural Center is open to the public free of charge. Center hours are: Tuesday and Thursday's 10 a.m. – 5 p.m., Wednesday, 10 a.m. – 6:00 p.m. and Saturday 10 a.m. – 12 p.m.

---
The Cultural Center has moved. Come visit us in our new home!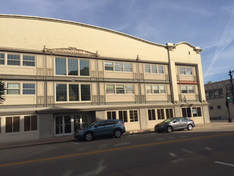 The Cultural Center has moved into the historic Johnson Hills building in downtown Wisconsin Rapids.

The new address of the Cultural Center is
320 West Grand Avenue, Suite 204
Wisconsin Rapids, WI 54495
​Go to the second floor of the building and follow the signs.

---
---
Instructors Needed for Classes/Workshops
The Central Wisconsin Cultural Center is planning for 2018 and is looking for instructors for classes/workshops. Do you have an artistic talent you would like to teach others? Please contact Stephany at 715-421-4598 or send an email to
cwcc@culturalcenterarts.com
with information on the class/workshop. Instructors are compensated for their time and the Cultural Center purchases all needed supplies. Share your talent with others!
---
---
---
The Cultural Center is proud to serve as a home to several art organizations in the community:
VSA Choir (Very Special Arts)
Central Wisconsin Choristers
4 on the Floor - In-house band
Eager Weavers Basket Guild
---
There is never a charge to view exhibits or visit the Cultural Center.
​Tickets for special events and concerts can be purchased at the door.
Central Wisconsin Cultural Center
Hours
Tuesday - 10:00 a.m. to 5:00 p.m.
Wednesday - 10:00 a.m. to 6:00 p.m.
Thursday - 10:00 a.m. to 5:00 p.m.
Saturday - 10:00 a.m. to Noon

320 West Grand Avenue, Suite 204
Wisconsin Rapids, wI 54495
​
715-421-4598 ~ cwcc@culturalcenterarts.com

If you would like to visit the Cultural Center outside of these hours, please call to make special arrangements.
---
---
Come and see us!
Art exhibits from local and nationally recognized artists in an ever-changing range of media.

---

Ongoing weekly and monthly musical entertainment from home-town favorites.

---

Spaces to rent including two gallery/meeting rooms, large enclosed music booth, kitchen, full ceramics area and art class space.

---

Classes, workshops and seminars in a wide variety of visual and musical arts for all ages.

---
---
It is the mission of the Central Wisconsin Cultural Center, Inc. to take a leadership role
in enhancing the appreciation of the arts and ensuring the cultural vitality of the arts
in the Central Wisconsin area.