---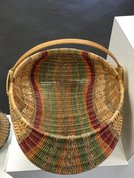 Basket Weaving Opportunity

Every Wednesday in June, 1 - 3 p.m.
Contact the Cultural Center for details at 715-421-4598


Appropriate for beginners through advanced, join the group as they weave in the beautiful outdoors. Guidance provided.
---
---
Open Ceramics Lab

Tuesday Evenings
Beginning at 6:00 p.m.
$7 per hour

Open ceramics lab in the downstairs ceramics studio with Tom Lindsley. Work with hand-building tools and equipment, electric wheels, cone 6 clay and a very wide range of glazes to form true ceramic pieces that are kiln-fired here at the Cultural Center. Please note children under 15 require a parent to be present, but that means you both can create together! No need to register in advance.

(If you plan to come, but will arrive after 6:00 p.m., please email the center earlier in the day so that Tom can be notified. cwcc@culturalcenterarts.com)
---
---
Thank you to the over 100 people who participated in our spring and summer survey.
Stay tuned for upcoming classes.
---
​Spring and Summer 2016 Classes Survey Results
Thank you to the first 100 people who submitted answers in less than a week.
It was an amazing response and we are very grateful.
Your replies included:
Local foods/products or health interests- 58.24%
Painting- 52.00%
Stained or fused glass- 46.88%
Fibers- 48.00%
Ceramics- 38.54%
Jewelry- 38.54%
Drawing- 34.00%
Dance or movement/exercise- 31.87%
Music lessons- 21.98%

The other combined responses totaled 19.79 to 24.18% for basketmaking, felting, languages, metal working/blacksmithing, photography, printmaking, weaving, wood carving (these were the replies from at least 2 people or more).

We are assembling our early spring brochure for March and April. If you would like to receive one in the mail, please call the Center or email us with your information and we'll send one right out. If you gave us your info in the survey, we have it already. Thank you.